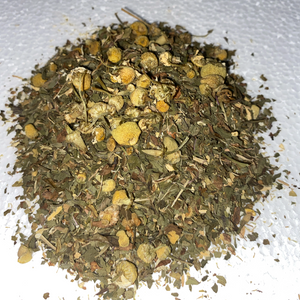 Inspired Wholeness Store
Cloud 9 Tea Blend
Regular price
$12.00
$0.00
Unit price
per
Cloud 9- A State of Great Happiness!
Pick up your mood. Calm your mind. Return to Cloud 9.
This refreshing yet relaxing blend of herbs is the perfect remedy for relieving tension, headaches, and mild anxiety, while restoring focus and mental clarity. 
It can also help with indigestion and upset stomach. 
This tea blend is useful to have on hand during the cold and flu season. The herbs in Cloud 9 have been known to relieve mild body aches, headache, mild fever, support the respiratory tract, and boost immunity. 
Ingredients: Peppermint, Chamomile, Licorice Root, Cinnamon, Lemon Balm.
Precaution with this blend- those with allergy to flowers in the Asteraceae family should not use this blend. Those with blood pressure issues should exercise caution when consuming as Licorice Root can increase blood pressure. 
Peppermint- helps with digestion, boosts immunity, relieves headache, increases focus, and is antioxidant.
Chamomile- Relaxing, reduces inflammation, improves/ relieves digestion, relieves anxiety, boosts immunity.
Licorice Root- anti-inflammatory, supports respiratory tract, antispasmodic, improves digestion, and boosts immunity.
Cinnamon- balances blood sugar, antioxidant, anti-inflammatory, improves circulation, boosts focus and concentration. 
Lemon Balm- anti-viral, antimicrobial, calming, improves mood and digestion, decreases anxiety. 
---